Excavation/Grading, Demolition, and Debris Removal
With our 30 plus years of experience, you can trust the job will be done right! We are a licensed general engineering contractor which allows us to provide a wide range of co-construction services. Our services are vast from land clearing and clean-up, to underground water, sewer, electrical conduit, irrigation piping installation, grading and earthen pads for new construction just to name a few.
Excavator Grading Contractor
Land Technics is a small family owned and operated company. When you hire us an owner will be involved in every aspect of your work.
Our company was started and is still located in Mesa, Arizona. Don't worry we service the entire Metro Phoenix area.
Over the years we have acquired many different sizes and types of equipment starting at 36 inches wide to 14 feet wide, chances are we will have the right piece of equipment to fit your needs.
If you have a planned project or a problem and not sure what you need we are always happy to discuss solutions and pricing.
Excavating Grading
All excavation and grading needs
Site prep for new construction and final grade
Compacted dirt pads (Certified as needed.)
Access roads cut into property or construction site
Laser leveling
Auger holes from 10″ to 36″ in diameter
Perk test holes
Retention areas dug
Culvert installation
Trenching
Equipment for hire
Bobcat (skid steers)
Dump Trucks
Wheel Loaders
Backhoes
Dozer
Gannon Tractors
Brush Chipper
14′ Laser Plane w/ tractor
Dump Trailers
Clean-up & Debris Removal
Residential remodel clean-up
Construction site clean-up
Weed removal
Hauling, loading, and disposal of debris, dirt, brush, and rubble
Property Clearing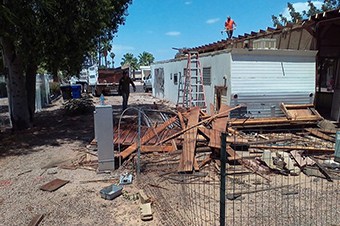 Demolition
Concrete cutting, breaking, & removal
Small buildings
Swimming pools
Masonry walls
Existing landscaping
Landscaping
Import & export of soil
Installation of new or top dressing of decorative rock and boulders
Installation of sand in play areas
Tree and stump removal
Flood irrigation repairs and installation
Materials Sold
Decorative rock and granite
Boulders
Fill Dirt
Screened rock and dirt
Sand
ABC
River Rock
Pipe Bedding
Other Aggregate Materials
Asphalt Millings
Get a quote on our services today